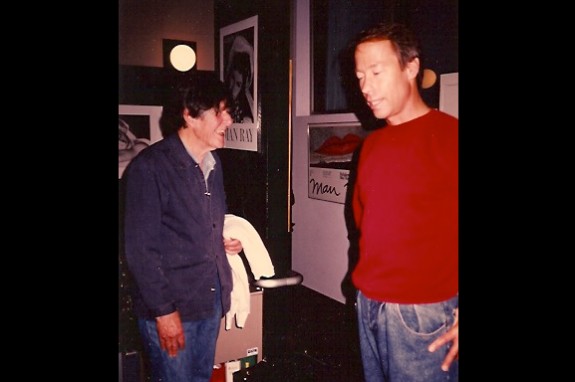 I just read a review of a new John Cage biography in the New York Times Book Review. I ordered the book, John Cage / Begin Again, by Kenneth Silverman, and it just arrived today.
Cage influenced people who don't even know who he is. And then there are folks like Brian Eno and Ryuichi Sakamoto, both of whom owe huge debts to Cage's thinking on music and sound. And music sampling, cannibalism, noise effects, and silence: these are all sonic and conceptual territories explored by the late composer.
I had an experience with John Cage years ago. It was during the Los Angeles Festival, and we had a radio event on Morning Becomes Eclectic—which I hosted then—with Cage. It was a chance operation involving three tall stacks of lp's which I randomly pulled from different genres/sections of the large KCRW library. Lp's by Umm Kalthum, James Brown, Sun Ra, classics by Bach and others. All stacked up into 3 piles around 100 lp's high.
Cage threw the yarrow sticks in an I Ching chance operation. I would pull from the various stacks according to the results. #15 from first pile; #32 from the 2nd, #83 from the 3rd. We had three turntable operators who then played cuts from each—simultaneously. The result was a crazy mix and an entirely new composition. That was pure Cage.
I'm fortunate to have met this brilliant and gentle man. And even more fortunate that one of the turntable operators had kept a cassette of the session. I had lost my aircheck and despaired of ever hearing it again (there was no website in 1987). I put the word out on Facebook, and voila, heard back from Larry Stein, now in Seattle. I can savor it again and it is even more interesting and provocative now, 23 years later. I am grateful to have lived moments like this.
← BACK