Gail Collins' New York Times Piece on Romney's Road Trip with Seamus the Irish Setter
I subscribe to the New Yorker, even though like many people, I don't have the time to read every issue.  Shortly after this week's Super Tuesday, this issue arrived in the mail.  I didn't quite know what to make of the cover, then I found Gail Collins' very funny piece–in her New York Times column– on Seamus the Irish Setter and the Romney family road trip to Canada in 1983.  It is very funny, and helps you understand the cover of the current issue.
Gail Collins Story link:
http://www.nytimes.com/2012/03/08/opinion/collins-dogging-mitt-romney.html?_r=1&ref=gailcollins
At the bottom are some funny comments.  The one I like came from Alan in Hawaii:
NYT Pick
But to be fair, I think we should consider this:
Newt Gingrich would have dumped the dog and gotten a younger, friskier one in Canada.
Rick Santorum would have kept the dog on the roof without a hose-down, because it must learn. It will learn. It will learn for its own good.
Ron Paul would left the dog at home without food, but let it roam free to eat squirrels or neighbors' cats, because ownership should exist only to protect liberty, and not to redistribute wealth to fill the dog bowl.
So, who do you want as president?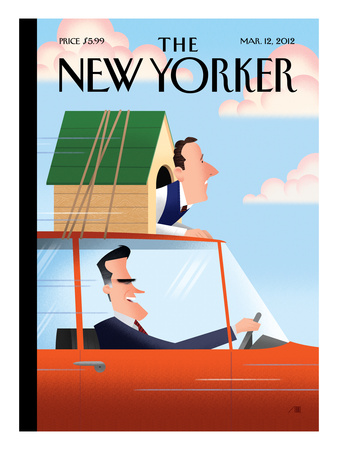 ← BACK