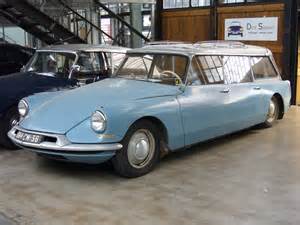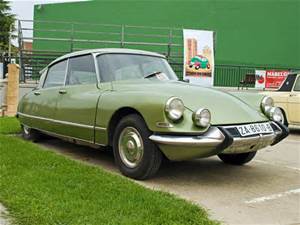 I bought a Citroën DS 19 in 1968, when I was 21.  Like most the the crazy exotic cars I bought and loved, I threw some money and some love at it.  I had it pained silver with a royal blue top, and had the seats done in crimson red.  It was a nice ride.  And the smoothest in the whole world too.
David Byrne drove one.  Even though the DS was introduced in 1955, it is still used in science fiction films because it looks so futuristic.
I could go over the curb into the UCLA Recreation Center olympic pool by just raising the car up and going over it (guess i didn't have a parking pass).  People used to marvel and wonder when I started it up:  it rose up as the nitrogen sphere air suspension filled up, then settled back down again in kind of a wobbling motion.   You could fold the front seats back and they went flush with the back seats, making a perfect double bed.  Sweet.
On the other hand, all the components:  steering, brakes, suspension, etc. were run by a hydraulic heart.  If the heart went sour, everything stopped working.  And there was only one shop at the time that worked on Citroëns at the time:  Don Runnell's Citroën Service, on Pico and Dorchester (30th St.) in Santa Monica.  Later there was Challenger Motors on Melrose Ave. near Seward St. in West Hollywood.
Once I drove the DS up to San Francisco with two friends.  We picked up a hitch hiker near Fort Bragg, north of SF, and as we were winding around mountain passes, the hitch hiker got car sick and threw up.  The car's air suspension caused sea sickness.
Some people found the DS ugly;  I once got turned down on a first date because she said she hated my car.  Never saw her again.  I find the DS — DS stands for "Déese""–Goddess" in French–to be surrealistically beautiful.  It was introduced in the Paris auto show in 1955 as the most modern car in the world, which it was.  In the U.S., it was advertised as the most comfortable car in the world, which it also was.  It also was the safest car on the road anywhere at the time.
Shortly after the car was introduced, French writer Roland Barthes wrote an ode to it in his wonderful little book Mythologies.
There is a 1974 DS 20 for sale in Santa Monica now:  $53,995.00.  When I begged my mother for a DS 21 station wagon in 1971, it cost $3200.00 and she wouldn't help me buy the car.  So sad.  I had to buy a Saab instead.
Jay Leno rhapsodizes on his DS in his great car-geek series Jay's Garage.  Make sure you watch the surreal advertisement on the car's suspension, with the avant-garde music.Also please read how a DS once saved French president Charles DeGaulle's life:
http://jalopnik.com/5928024/how-the-citroen-ds-saved-a-french-presidents-life