Dori Caymmi's New Album: Poesia Musicada and Why I Love It
Brazilian composer, arranger, and guitarist Dori Caymmi has a stunning new album out.  It's called "Poesia Musicada", which roughly means "Poetry Set to Music".  Dori, along with siblings Nana and Danilo, comes from Brazilian musical royalty:  their father, Dorival Caymmi, was the patriarch who paved the way for Jobim, Joao Gilberto, Caetano Veloso and all who followed him.  Dorival also introduced Carmen Miranda in 1939 when she was still unknown.  The debut song was called "O Que é Que a Baiana Tem" ("What is it about Bahian Women") and was a big hit.  By 1945 she was the highest-paid woman in the world.
Several interesting things have happened in my life because of Dori.  I met the architect who built my home while waiting in line at Le Café in Sherman Oaks years ago.  I traveled the jungle waterways in Sarawak's rain forests listening to Dori singing about the beauty of nature and the sea.  I once played my alto flute at a party with him playing the acoustic guitar.  These memories run deep.
The new album pays tribute to Dori's dad, and is built around an event.  Dorival performed at the big casinos and clubs in Rio during the 1940′s and 1950′s, hugely popular among visiting luminaries like Sinatra, Orson Welles, and Nat Cole who signed his guitar.  The guitar was stolen and the thief sanded off all the famous signatures.  Later the instrument was found in a pawn shop.  The photo here was the only one that showed all the signatures.  Dori is holding it proudly.
The new cd comes out in November, and I will be featuring it regularly on my shows.   Here's a sneak audio preview:  the song "Estrela Cinco Pontes" (The 5-pointed Star).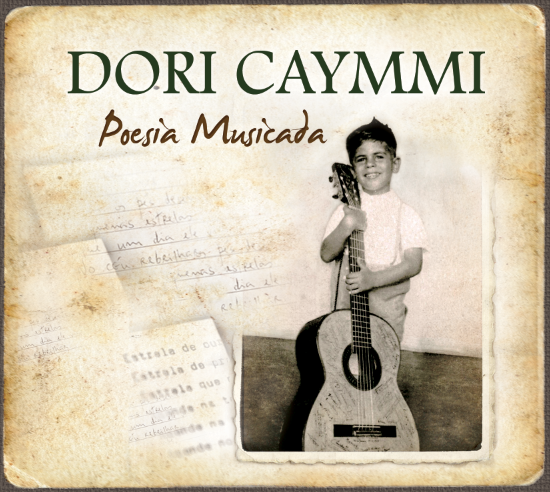 ← BACK