TESLA S: A PARADIGM SHIFT IN AUTOMOBILE DESIGN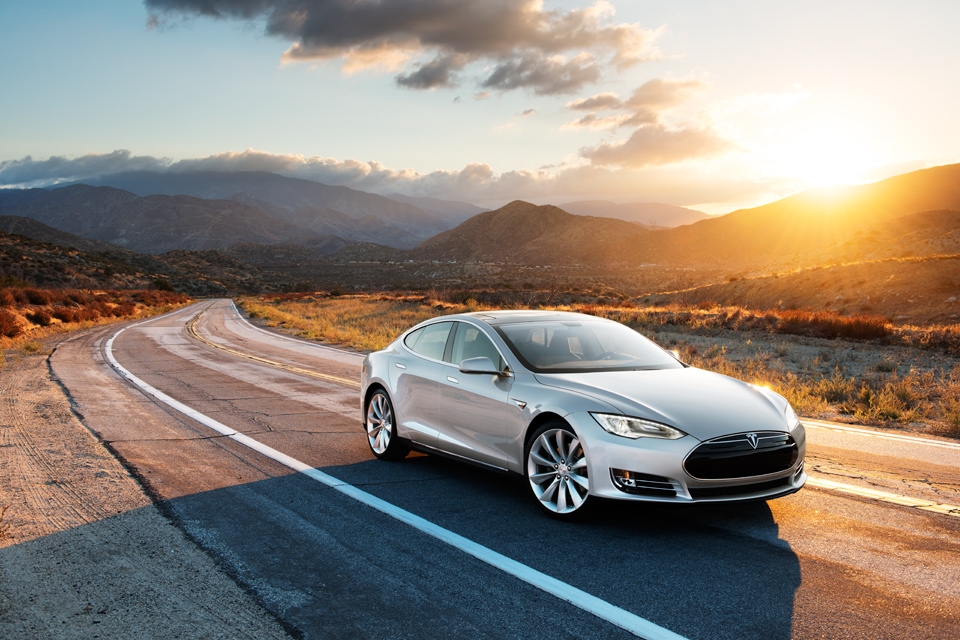 A friend of mine told me he was picking up a the new Tesla sedan today, the S model no less.  Then I saw another one parked in the underground parking in my building this morning.  It is a sleek beauty.  I read about Jay's Leno checking it out with the Tesla's chief designer:
http://www.jaylenosgarage.com/cars/tesla/2012-tesla-model-s/index.shtml#item=263630
Today I was lucky to go for a ride in the new one.  It is one gorgeous car, the trim, door handles, the interior design is ultramodern and everything has been thought out…from a clean sheet of paper.    It is a paradigm of auto design.
I got a love of cars from my Dad, who had a few beauties:  Ferrari 250 GT, 275 GTB, 308 GT, 300 SL Gullwing, Maserati 3500 GT, as well as some Park Ward and Mulliner Rolls and Bentleys.  I am a car nut and I've had a Jaguar XK 150S, a Citroën DS 19, and a few Porsches, mostly purchased used.   I poured a ton of money on the Jag but wound up giving it away for $1000 in 1971.  Now it's worth a bundle.  Oh well.    I'll bet that in experiencing this amazing new vehicle and studying its parameters,  other designers are scratching their heads and planning to come up with their own all-electric designs.
But it is even more than that:  it is a paradigm shift in automobiles.  For one thing, there's no exhaust pipe.  The charge cord goes into a part of the rear tail light lens that pops open on command.  So discreet.    I told the happy new owner that he's have to be a Neil Armstrong to figure out the display and controls;  then I found out that the designer was the same guy who ran SpaceX, which is conducing private flights into space.  No surprise.  The Tesla also has air suspension, so there are no bumps or road vibrations.  I remember air suspension from my 1963 Citroën DS 19;  a car so magnificent and new that the late French philosopher and semiotician Roland Barthes wrote a chapter on it in his wonderful book Mythologies.
The car is smooth and silent and fast as hell.   Unlike the exhaust note that high-end automobiles put into their cars (think Ferrari, Abarth, Porsche, McLaren) these all have a certain sound.  The Tesla just has a soft whirrrr, not even a whine.  It sounds like a rocket ship.  And believe me, it accelerates like one too.   Jay Leno burns some rubber at the end.  This car would dust most AMGs, M5s, and Carreras as well.  And dust them quietly, almost discreetly.
The new Tesla S is a marvel of industrial design and engineering.   I am blown away.
http://www.teslamotors.com/models



← BACK